What's the deal with travel? Why do we love it in some forms, but not others? August is a big travel month and many people are on the move, squeezing the last days out of summer vacation. I've seen Facebook photos of friends in Mexico, Florida, Scotland, Amsterdam, Iceland, Hawaii, and more. They are on cruises, on planes, and on trains. The comments from our mutual friends express admiration, even jealousy, and reiterations of bucket list destinations. Wanderlust seems rampant.
For over a year now I've been traveling. I travel to teach (Denver this winter, for example, for Regis University's Mile-High MFA program or Ohio this summer for the Antioch Writers' Workshop), to speak, and to read from my published books. When I hit the road I too post photos from the road and check in from various locations. But when I see friends in person often someone will comment about my travel as though it's a hard thing: "You've been on the road a lot. Glad to be home for awhile?" I understand where they're coming from. Travel can be wearing on the body and soul, especially if you log tens of thousands of miles a year. But it's not like that for me. I don't mind being on the road.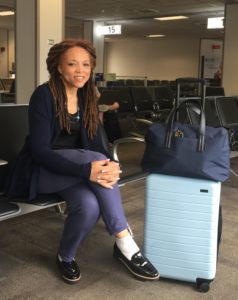 This is my life. I've been working for years to get to this point where I get asked to board a plane and come to people. Also, remember, I work from home. Taking a trip breaks my routine and fills my creative reservoir with new people and sights and sounds. The words on the wall at the Loft Literary Center store are, to me, my marching orders as an artist. I must read, write, create, and explore. The trips I take are my best opportunities to explore and I'm grateful for every mile. Will I feel the same after unpacking for the umpteenth time? I don't know. For now I want to enjoy this. I've invested in new luggage including a suitcase with a battery charger for my phone and wheels so smooth I feel like I'm gliding through the airport. I received my TSA pre-check number and even decided on a "travel uniform" so I won't have to think about what to wear every time I head out.
And I revel in the little things. I love the Biscoff cookies some airlines give out for snacks, fountains that can fill a tall water bottle, rocking chairs overlooking airport tarmacs, and a window seat providing spectacular views. I'm traveling a lot this autumn, through early November, starting with a trip to Lawrence, Kansas on September 4 for a reading at the public library there. I'm also bound for the Catskills, Phoenix, Wisconsin, North Carolina, and Missouri.  My full schedule is available on my Events page here. Yes, sometimes I don't know how I'll meet deadlines and I worry about getting sidetracked from writing my next novel, but it's okay. My writing will always be better for it.
I believe travel can transform. And just to show you I know the difference between traveling for work and traveling for those Facebook-worthy WOW moments, I do have a plan to combine the two. I'm teaching a very special writers retreat, the Write of Your Life Retreat, in Italy next year (September 8-15, 2019).
This is a small group adventure–we're taking just 20 writers. We'll stay at the Villa Margherita, Country House Hotel located on the River Brenta, 20 minutes from Venice. The peace and tranquility of the Veneto countryside has for years inspired writers including Lord Byron, Robert Browning, Ernest Hemingway, Thomas Mann and Daphne du Maurier.
I believe we all have a reservoir of creativity within us. It is filled with the inspiration we take in during the course of our lives, everything from a beautiful painting in a museum to a beloved song on the radio to the fascinating sight of a hummingbird feeding on flowers. For writers, this reservoir fuels our work and encourages us to soar on the page.
However these days the whole "butt in the chair" mentality is stressed to the point where writers spend much of their time alone in a room mining for words. On one level that's great—it's how our work gets done! But on another level it drains our resources. Eventually the reservoir runs dry and all manner of difficulties ensue, including the dreaded writers' block.
What's the remedy? Filling the reservoir at regular intervals, in ways large and small. You may already do this little by little (reading, talking walks, seeing a good movie). It's why I enjoy the travel I've been doing. But this trip is about going big.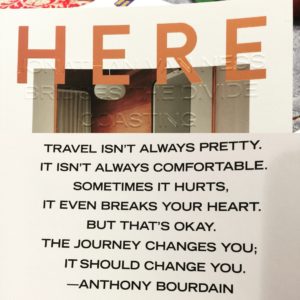 My dear friend the brilliant Janet Simmonds of Educated-Traveller has partnered with me to design and arrange this dreamy voyage. Here's the flyer where you can read all the details: WOYL_Flyer_digital. I've wanted to go to Italy ever since I saw the film "A Room with a View."  I can't wait to go. If you have an adventurous spirit and a desire to inject renewed energy into your writing life, consider this my personal invitation. I hope you'll join us. And I hope you enjoy every trip that takes you to new and enlightening destinations.