I've long harbored a dream of having an audiobook version of a novel I've written. Daddy never learned how to read and he often listened to spoken word recordings of sermons. I remember well the voice of the Reverend C.L. Franklin (singer Aretha Franklin's father) filling our car via the magic of 8-track tape. I think Daddy would have liked hearing a story of mine read to him. I also have several friends and family members who prefer consuming books through their ears so I was thrilled to learn HarperAudio had chosen to record Unforgivable Love.
Executive producer Caitlin Garing sent me audio samples of possible narrators for the book. I had fun listening to and considering them all, but one actor's voice in particular seized my ear and my imagination: Adenrele Ojo. The clip I'd heard was from The Turner House by Angela Flournoy. She's also narrated scores of popular works including Brit Bennett's The Mothers and Alan Light's What Happened, Miss Simone? Adenrele's voice is rich and elegant, exactly the sound I wanted for Unforgivable Love, which is set in a rich and elegant world of 1940s Harlem. She could also render male voices naturally and with gravitas—important because one of my book's main characters is a man, the rakish playboy Valiant Jackson.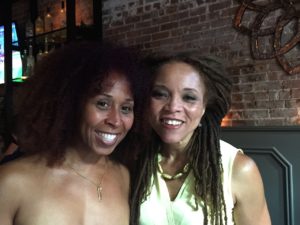 Adenrele has acted since childhood and even describes herself as a theatre brat. Her dad, John E. Allen, Jr. was Founder & Artistic Director of Freedom Theatre, the oldest African American theater in Pennsylvania. She's a trained dancer, a talented photographer, and is known for roles such as Martha Pentecost from August Wilson's Joe Turner's Come and Gone. Adenrele hails from Philadelphia and Brooklyn and she lives in Los Angeles now, where she recorded Unforgivable Love.
When I heard she would be in New York City recently I jumped at the chance to meet Adenrele in person. The audiobook of Unforgivable Love is magnificent and even though we'd never met before, I felt we had already connected and collaborated through the material. I wanted to express my gratitude to this wonderful actor for giving voice to my characters and learn more about her artistic process in recording the novel. The following is our interview. The audiobook of Unforgivable Love is available digitally from Audible and as a beautiful CD set, perfect for gift giving. I hope you'll give it a listen.
SS: How did you prepare to narrate Unforgivable Love? Was this the same as your usual preparation or did you have to do anything different for this book?
AO: With all my fictional audiobook stories, I use the same approach and process. First, I always read the book. That is a must. I read out loud, which helps me bring voice to the characters. It's like storytelling time to myself. Through the writing I begin to get a feel for the characters and what they sound like. As I am reading out loud their voice will come to me. At that point, I tend to record quick samples on my phone for reference, especially if there are a lot of characters. Then I take time to research any words I may not know how to pronounce. Lastly, I will reach out to the producer for anything I cannot locate or need clarity on.
SS: I really love the pace of your reading. How did you come to settle on the pace? Are you matching the rhythm of the words or is this something the director/producer helps you with?
AO: The pacing is in the writing and it's really easy to find if the story is good. It's like narrating a suspense thriller, or an action filled book, or a love story. They all have a different feel and it changes from moment to moment. There were so many colors in the writing of Unforgivable Love that left me a ton to play with, especially with each character having his or her own distinct personality: sexy, playful, demure, child-like and so on.
SS: How did you decide on the sound of the male voices in the book?
AO: I find all my voices the same way. When I begin reading I first learn the facts provided by the author, i.e. age, dialects, voice quality, personality. If he is a lead male and a lover, there might be a sexy or suaveness to his voice. While reading out loud my interpretation of the character along with those facts inform my decision of what the character might sound like.
SS: Which was your favorite Unforgivable Love character and why?
AO: Oh no! Though I enjoyed playing with Mae and Val, I think my favorite may have been Elizabeth Townsend. I loved voicing her kind of demure, lady-like personality. I enjoyed her trying to hold it all together while at the same time she is internally wrestling with herself. That was so much fun to play and experience through voice.
SS: Do you sing? How did you approach the music in the book?
AO: WHO ME?!?! You would never offer me a record deal, though I can be thrown in the chorus. The story sings. I am a fan of period pieces. Period pieces have their own style and musicality. I just follow that.
SS: Did you ever get emotional while recording Unforgivable Love? (Feel free to add "Spoiler Alert!" if necessary!)
AO: I most certainly did!!! People are just going to have to listen to it for themselves! I am not giving anything away. I want the listener to have their own visceral reaction just like I did. That being said, all of the characters are wanting the same thing in one way or another, LOVE. It's about fears that stand in the way and choices made to get that 4-letter word.
When I was doing my reading prep, I got to the place where one of the characters had gone through so much to break free in attempting to allow love to come in and they got deeply hurt as a result. There is this moment of them coming out of their melancholy and self-pity. It's so beautifully written and kind of twisted at the same time. As I was reading, I was smiling, but then I realized "it's not what I think it is or is it?" And when I started guessing what I thought was about to happen, I immediately stopped reading. I had to put my tablet down and walk away. I just paced back and forth talking out loud to myself (because that's what I do) about what I thought was about to happen. I did not want it to be true. I finally picked my tablet back up and braced myself. I read it and I wept.
SS: I was able to voice a preference choosing you to be the narrator of my book, so it felt like we were in collaboration even though we didn't meet until after you had recorded the manuscript. Do you often get to meet the authors of the books you narrate and what's it like?
AO: I actually do not get to meet the authors whose work I record. In the ten years I've been narrating, I have only met two in person. The second author I met wrote a story about a slave woman named Mumbet who was the first slave to sue her slave master and win her freedom—an amazing story that we never hear about. The author invited me to come to Mumbet Day, which is celebrated in Massachusetts where Mumbet resided. She asked if I would come and read an excerpt from the book. Since I was going to be on the east coast during that time I was thrilled to go and participate in such a historical celebration. Afterwards, we received a tour of the house where Mumbet lived and a tour of the area and a few of the cemeteries that held the graves of many of the historical people noted in the book. It was so beautiful to see where Mumbet rests. I have a picture of it on my Instagram page.
Other than that, I am Facebook and Twitter friends with several of the authors.
SS: What would you most like readers to know about your work?
AO: Like (singer) Erykah Badu says, "I'm an artist and I'm sensitive about my sh%t!" Lol. No, but really, I take pride in what I do. I'm an actor, an artist who wears many hats. I want people to love what they hear (or see). I do my best to bring my A game. Trust me, no one beats me up harder than me if and when I feel like I'm coming up short.
SS: What was the hardest part about recording Unforgivable Love? What was the easiest?
AO: Wow! The hardest part was that we ended up having to push out the schedule for me to start recording because I got sick and on top of that, I had to get it done because I was leaving to head out of town for a couple of months. We needed it recorded in enough time for it to be proofed and for me to come back into the studio for any pickups before I left. On Day 1 I was feeling better, but not 100%. Most narrators sit while recording because you are recording for long hours in a day. However, I wasn't going to be able to get enough breath sitting because you are kind of contracted in the diaphragm area, so I had to request that the studio set me up to stand for the entire five days of recording. It was actually great! (Many narrators do actually record this way all the time.)
Toward the end of my first day of recording I started to lose my voice. My second day of recording was a quick turnaround scheduled for the next morning. But when I woke up, I had no voice. I let the studio know and I went in anyway hoping it would come back. I drank some tea and just tried to give my voice a moment to wake up. It wasn't happening. As it was Friday, I decided not to attempt recording and got some acupuncture (which I love) and went on vocal rest for the weekend. I had to text my mom and tell her, "I am not talking!"
My acupuncturist gave me two sets of herbs. I had to take 15 of each three times a day. That's 90 pills a day! When Monday arrived, I was doing much, much better. However, due to the fact that I had started losing my voice during that first session and I wanted and needed this book to be perfect, I requested to re-record the last twenty pages I had done.
The easiest part was living the characters because they were so well written and vivid.
SS: What audiobooks of yours should fans listen to or look out for next?
AO: I have a ton of audiobooks that I've recorded consisting of both fiction and non-fiction that I really like or love. It would not even be fair to attempt to list them all. I will give you two and only because I believe they are so important and relevant to where we are today as a people. I think we need to get informed, educate ourselves and have a lot more compassion for humanity. The first is Carl Sagan's last book, Billions and Billions and the second is Radical Hope: Letters of Love and Dissent in Dangerous Times edited by Carolina De Robertis.
Again, I have many that I love. If listeners are interested in hearing more, they can search my name on Amazon or its subsidiary, Audible.com.