We can't control everything in our lives but it's important to remember that positive action is always possible–especially when bad things like a pandemic happens. For this morning's walk, let's talk about how to make thoughtful moves even when the whole world seems stuck. And a shout out to Sarah Arthur!
If you're reading this post via email and don't see the video, you can view it by using this link to go directly to my YouTube channel.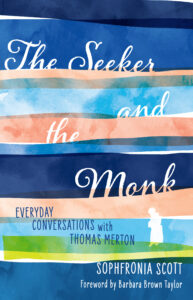 I'm happy to announce that my next book, The Seeker and the Monk: Everyday Conversations with Thomas Merton, can now be pre-ordered! You can use this link to order from the publisher, Broadleaf Books (group discounts available). You can also order it from wherever books are sold. I loved writing this book. I hope you'll enjoy reading it.
Stay safe, be well, and have a good week!
Sophfronia