Expectations can buoy you or bury you. It all depends on how tightly you're holding on to them. For this morning's walk, as we get closer to the start of the Alma College MFA in Creative Writing summer residency, some thoughts on leaving space to let the magic happen.
*

In case you're wondering, the Alma College MFA in Creative Writing is a low-residency graduate degree program that features residencies twice a year. The rest of the semester you work one-on-one with a faculty mentor, submitting packets of writing once a month. Our next residency, is December 27-January 6 and the application deadline is November 1. Check it out. I'd love to hear about what you're writing and your thoughts about joining our artistic community.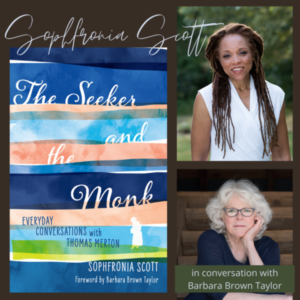 Did you miss my recent book event with the excellent Barbara Brown Taylor for the Mark Twain House and Museum? We were in conversation about my book, The Seeker and the Monk, of course discussing Thomas Merton and all things spiritual. But no worries!  You can go here to view the recording of this free event.
Lots going on and I think the hardest thing is remembering to simply enjoy it all. But I'm getting there! I am grateful.
Be well,
Sophfronia