It's September 11. On this day of remembrance I'm thinking of my morning walks in New York City with my friend Naomi Barr 19 years ago and of the inspiring, restorative, and energizing power of friendship. Shout outs in this video to Barbara Brown Taylor, Lynne Westfield, and Willie James Jennings.
If you're reading this post via email and don't see the video, you can view it by using this link to go directly to my YouTube channel.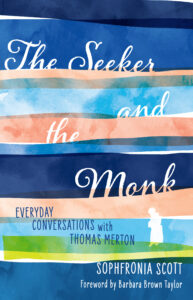 I'm happy to announce that my next book, The Seeker and the Monk: Everyday Conversations with Thomas Merton, can now be pre-ordered! You can use this link to order from the publisher, Broadleaf Books (group discounts available). You can also order it from wherever books are sold. I loved writing this book. I hope you'll enjoy reading it.
Stay safe, be well, and have a good week!
Sophfronia