In the Harry Potter books, Professor Dumbledore reminds Harry that help will always be given at Hogwarts to those who ask for it. Well, that really goes for all of us no matter where we are. But do we remember to ask for help or do we keep trying to go it alone? Hey Harry Potter, Frodo, and even Jesus all needed a little help from their friends. Why should you be any different? For this morning's walk, the wisdom of asking for help and support.
*

Yes, as you can see in the video, I'm excited about our first summer residency for the Alma College MFA in Creative Writing coming up next month. Just so you know, our graduate degree program features residencies twice a year. The next one, our winter residency, is December 27-January 6 and the application deadline is November 1. Check it out. I'd love to hear about what you're writing and your thoughts about joining our artistic community.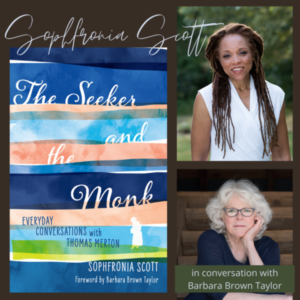 Did you miss my recent book event with the excellent Barbara Brown Taylor for the Mark Twain House and Museum? We were in conversation about my book, The Seeker and the Monk, of course discussing Thomas Merton and all things spiritual. But no worries!  You can go here to view the recording of this free event.
Lots going on and I think the hardest thing is remembering to simply enjoy it all. But I'm getting there! I am grateful. Talk to you next week from Michigan.
Be well, and enjoy this beautiful spring.
Sophfronia