For this morning's walk I'm thinking about the death of Knoxville, Tennessee community activist and church leader Elandria Williams, the poignant video she left behind here on Facebook (https://www.facebook.com/elandria.williams/videos/10158248070961487), and whether community and activism requires a different level of caring for each other to ensure we remain healthy and fit for the fight. Shout out to Ralph Basui Watkins. And thanks Karen Bellavance-Grace for posting about Elandria.
If you're reading this post via email and don't see the video, you can view it by using this link to go directly to my YouTube channel.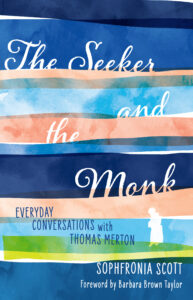 I'm happy to announce that my next book, The Seeker and the Monk: Everyday Conversations with Thomas Merton, can now be pre-ordered! You can use this link to order from the publisher, Broadleaf Books (group discounts available). You can also order it from wherever books are sold. I loved writing this book. I hope you'll enjoy reading it.
Stay safe, be well, and have a good week!
Sophfronia