The pandemic seems to have brought us more meetings than ever–virtual meetings. But just because you're not in the same room with your colleagues that doesn't mean you aren't affected by their words and energy. Are you noticing it? For this morning's walk let's talk about the people around you and whether or not they inspire you to be your best. Shout outs to Alma College President Jeff Abernathy, Melinda Booth, Leslie Contreras Schwartz, Karen E Bender, Donald Quist, and Amanda Slenski.
If you're reading this post via email and don't see the video, you can view it by using this link to go directly to my YouTube channel.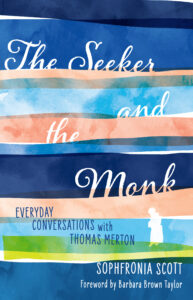 A reminder: My next book, The Seeker and the Monk: Everyday Conversations with Thomas Merton, can now be pre-ordered! You can use this link to order from the publisher, Broadleaf Books (group discounts available). You can also order it from wherever books are sold. I loved writing this book. I hope you'll enjoy reading it.
Stay safe, be well, and have a good week!
Sophfronia