Picture a group of writers. We're on a bus. No, we're not singing Elton John's "Tiny Dancer" like they do in the movie Almost Famous but we are traveling great distances and having fun. We stop at the virtual internet residence of each writer and there he or she introduces the people they know to the writers on the bus. It's a wonderful trip because readers get to learn about new authors and their books, and the writers get to connect with new readers. That's what the My Writing Process Blog Tour is all about. So this week is my stop and I'm happy to introduce you to a few excellent and fierce writers on my radar.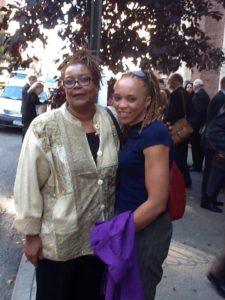 My friend Breena Clarke invited me—I will forever crow to the rooftops about her! Breena and I met when we both worked at Time Magazine. While still at Time she was laboring on her first novel that eventually became the Oprah Book Club smash hit, River, Cross My Heart. Her second novel is Stand the Storm and her third will be published in July: Angels Make Their Hope Here. (Isn't that an awesome title?) 
I've heard Breena read from this book and it is stunning. You can pre-order it now and I enthusiastically suggest you do so.
Breena is also the co-founder, along with her sister, the poet Cheryl Clarke, of the Hobart Book Village Festival of Women Writers. I had the privilege of teaching at the first festival and the second is coming up in September. Please check it out. You can also help support this excellent event by going here and participating in the fundraising campaign.
Now, to answer the four questions all writers on the blog tour answer:
What am I working on?
I have a few projects underway including the revision of my second novel, The Light Lives Here. I'm also working on a collection of memoir essays and I've written a book proposal for a memoir, Eyes in My Fingertips, that I will co-author for a Harvard classmate who has been blind since birth. All this is going on as I finish the work of my final semester at Vermont College of Fine Arts. I'm graduating with an MFA in writing, fiction and creative nonfiction, on July 5.
How does my work differ from others of its genre?
I'm not sure how I compare with other writers in my genres (historical fiction, essay, memoir), but I know what makes me stand out as a writer. In fact I had this conversation the other night with a friend who had just read an essay of mine. The essay was recently named a finalist in a creative nonfiction contest. (This isn't public yet–I'll announce the details when the literary journal publishing my essay does so.) Anyway, my friend's comments, I think, sum up how I am with all of my writing:
"I love the emotion and risk you put into your writing."
"This is brilliant. Truly heartfelt, emotional, real, inspirational, and quality."
"How many writers spill their blood on the page with such trust and gusto knowing their audience needs to hear these words, these messages from their heart?"
If that sounds intense, I suppose it's because I am an intense writer. I put a serious amount of love into my work with the hope that a lot of love will come out for the reader on the other side. When such love is involved it's hard for the product to do anything but burn—burn with joy, burn with wonder, burn with gratitude.
Why do I write what I do?
In the movie Chariots of Fire, the character of the Olympic runner Eric Liddell, as portrayed by Ian Charleson, talks about running being his God-given talent. "God made me fast," he says. "When I run I feel His pleasure." It's like that with me and writing. I feel I've got to do the thing I've been blessed to have this gift to do. And it's exhilarating when I know I'm writing well because I too feel His pleasure. I know only good can come of the work even if only one other person reads it. I watch Chariots of Fire whenever I need a jolt of inspiration, which I did only yesterday in fact.
How does my writing process work?
In this last semester of my MFA program I've been working on my novel under the guidance of another talented writer/teacher, Bret Lott. He asked me about my process—he seemed fascinated by the placeholders and notes to myself I had scattered throughout the manuscript. This is how I explained it all to him:
I'm very much a story-minded novel writer—I want to make sure I have a strong, multi-layered story that can be sustained over 300 or more pages. I think about who my characters are, what they want, and how to create a dramatic arc for them over the course of the novel's pages. First I think of my big picture story, then I figure out what my climax point is and I aim for that. I try to know my beginning and ending, and I'm fully aware both might change during the process. I will make an initial list of chapters and then a list of what needs to happen in each chapter to move the story forward—yes, I'm an outliner.
Once I know where I'm going I start writing. Some scenes do come more easily than others, but it's really a matter of my brain being able to focus on one chapter for a good amount of time. And as much as I try to write on the computer it always seems my best stuff is written by hand on a legal pad with a black gel pen.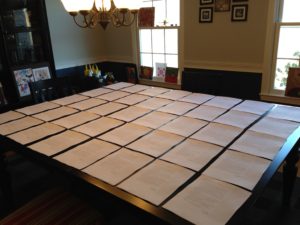 After I get a draft written, that's when I can see the holes, what's missing in the manuscript. It could be details, description, plot points—items both minor and major. Some can be fixed with a sentence or two. Some will require whole chapters be added. I put notes or placeholders in the pages so I can see what belongs where and to remind myself of what needs to be done. I keep revising in this way until I feel the book is complete. This is what I'm doing now with my novel—I'm on the third draft. Here it is laid out on my dining room table.
So I guess as a writer I'm organized and kind of technical. Perhaps this structure is what gives me the freedom to take risks and be emotional. It's all part of the whole!
Passing the Baton
I'd love for you to meet Mary Rickert! She too earned her MFA from Vermont College of Fine Arts. She's also worked as a kindergarten teacher, coffee shop barista, Disneyland balloon vendor and personnel assistant at Sequoia National Park (How cool is that?). She now lives in Cedarburg, Wisconsin, a small city of candy shops and beautiful gardens. She has published numerous short stories and she won a Shirley Jackson Award for her story, "The Corpse Painter's Masterpiece." Her first novel, The Memory Garden, a magical realist story of women's secrets and friendships was published this month. She'll publish her blog post at www.maryrickert.com May 21.
Next I take you to the other side of the world—Australia!—to introduce to you the physician and writer Leah Kaminsky. This busy lady, another VCFA graduate, serves as Poetry & Fiction editor at the "Medical Journal of Australia" as well as online editor at "Hunger Mountain." She's authored several books and her novel, The Waiting Room, will be published by Random House Books AU in 2016. Her blog post will be up at www.leahkaminsky.com.
That's all! Hope you've enjoyed this leg of the ride.
Cheers,

Sophfronia