All I Need to Get By: A Novel, St. Martin's Press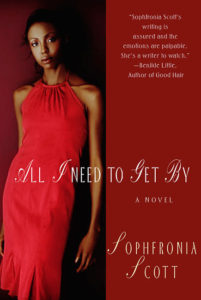 Crita has come a long way from her small-town Ohio roots. A successful tax accountant living in Manhattan, she finally has the independent life that she dreamed of as a girl. However, with one fateful phone call, Crita's life is turned upside down. Suddenly back home, living under her parent's roof, Crita must confront two powerful men from her childhood–Link, her destructive brother with whom she shares a dark secret, and Tree, her first love.
Facing memories that she would rather forget, Crita struggles to reconcile a tumultuous past with a calmer, quieter present. Needing help along the way, she may even learn to lean on Tree, the only man who could ever give her "what she needs to get by." In this riveting debut novel, Sophfronia Scott speaks for anyone that knows just how hard it is to go back home again.
"Lorain, Ohio, is familiar territory to readers of Toni Morrison, but Sophfronia Scott makes it her own. All I Need to Get By is a stunning debut, a story of family and memory, and the stories we tell about both in order to "get by." The novel is equal parts profundity, humor, and grace, and its author promises to take a place among the best writers of her generation."
–Professor Henry Louis Gates, Jr. Harvard University
Doing Business By the Book: How to Craft a Crowd-Pleasing Book and Attract More Clients and Speaking Engagements Than You Ever Thought Possible,  Advantage Media Group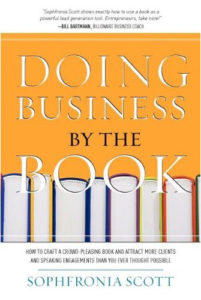 If you are a speaker or business owner waiting to write a book "someday," your day is hereand not a moment too soon. We're now in the world of creative commerce, where having a book to your name is as necessary as having business cards in your wallet. Whether your dream is having a bestseller, increasing your speaking fees or having that special gift to wow prospects, this book is your blueprint to success. You'll learn – The 3 simple things you need to do before you publish your book, or you'll be kicking yourself later]] How to package your knowledge into a system you'll use again and again for maximum moneymaking potential. What you must learn from the bestsellers of Dr. Phil, Jack Canfield, and Timothy Ferriss about how to set up a book to bring more qualified customers to your business.
"Sophfronia Scott shows exactly how to use a book as a powerful lead generation tool. Entrepreneurs, take note!" –Bill Bartmann, Billionaire Business Coach
How the Fierce Handle Fear – Secrets to Succeeding in Challenging Times, Two Harbors Press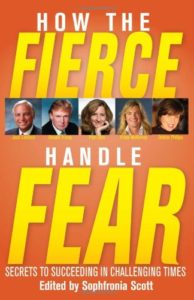 Every individual confronts reasons to live in fear–the economy, health issues, violence at home and around the world–the list multiplies by the day. Many of us are already mired in circumstances made all the harder by the accompanying burden of anxiety and fear. Sophfronia Scott maintains that learning how to handle fear is the most important skill a person can master. We don't have to expend our energy, or our lives, ruled by our fears.
In How the Fierce Handle Fear: Secrets to Succeeding in Challenging Times, Scott suggests that a "fierce" approach is called for. She has assembled an assortment of the most "fierce" and successful business and life coaches, including Donald Trump and Jack Canfield, to share their tools for triumphing over the same fears that keep many of us from realizing our potential. Our ability to cultivate fearless behavior may well be the measure of our courage. This collection of 22 essays is the recipe for achieving true success and reaching our highest goals.
"Scott's insightful compilation provides a host of helpful strategies for conquering your fears and moving forward in the name of progress. Particularly notable is the essay entitled "The Price Of Fear," penned by author and writing coach Cherry-Ann Carew. In gripping fashion, Carew relates her personal story of sinking to the depths of financial peril, only to rise to the daunting challenges confronting her and her family and emerge victorious over her seemingly insurmountable circumstances. As such, How The Fierce Handle Fear is a powerful, practical guide to achieving success – no matter how bleak your situation. A thoroughly motivational read."

Karynda Lewis
Apex Reviews
Chicken Soup for the African American Woman's Soul, HCI
Features the essay "God's Will" by Sophfronia Scott.
Chicken Soup for the African American Woman's Soul is a rich collection of stories that truly celebrate the mountaintops and share the valleys of the African American woman's experience; highlighting her moments of strength, as well as her struggles.
This candid, touching and inspiring collection of stories proves that the spirit of sisterhood extends beyond geography, economics, age and time. Whether we're passing on family traditions, keeping the faith or just keepin' it real, one thing is for sure; we are here because of the shoulders we stand on.
Chicken Soup for the African American Woman's Soul will leave you feeling as if you've just shared a sacred space with some legendary African American women through quotes or stories from Rosa Parks, Coretta Scott King, Mary McLeod Bethune, and modern day heroines like Patti LaBelle, Halle Berry and Queen Latifah.
Legacy

And so our mothers and grandmothers have, more often than not anonymously, handed on the creative spark, the seed of the flower they themselves never hoped to see—or like a sealed letter they could not plainly read.
– Alice Walker
Forty Things to Do When You Turn Forty: Forty Experts on the Subject of Turning Forty, Sellers Publishing
Features the essay, "Call Your Friends and Say, 'I Love You'" by Sophfronia Scott
Forty Things To Do When You Turn Forty is a collection of essays that speaks to the reader who has or will soon turn 40. Forty essayists from all walks of life have written on the subject of turning 40; covering issues that are practical, on subjects like health care, fitness, finance, and business, and essays that are reflective, whimsical, or reassuring or just plain laugh-out-loud funny. All royalties will be donated to cancer research.
"I bought this book for a friend who was celebrating her 40th birthday. I browsed the book and was pleasantly surprised at the content. It's a series of essays by various people on basically how to celebrate life. Sometimes we get too caught up in the everyday routine of life and we forget how good it feels to "stretch" by considering another point of view and trying something new or different. While I didn't read the entire book, just glancing at the table of contents there were a few ideas worth pursuing. I am actually ordering another copy just for me – I thought it was that good. I'd recommend it for anyone looking to change up their world a bit, even if it's not time for a milestone birthday." –F.P. Kitty